Viktoria Modesta
Viktoria Modesta is a Bionic Artist. She is an accomplished singer/songwriter, performance artist and creative director who uses high-tech fashion wearable technologies incorporating sensors and cutting edge controllers in prosthetics.
She's a major statement representing the new music industry vision and an icon of empowerment and creativity - and we're thrilled to have her at #MTFBerlin.
Her recent video project Prototype has been seen and shared by tens of millions worldwide. Her message and image are an inspiration in the world of the arts, popular music and science as well as a transformative milestone for the global image of disability.
Born in USSR in 1987, Viktoria spent her childhood dealing with health issues and hospital confinement in the restricted society of the Soviet regime. She escaped to the UK in her early teens and approached doctors to have her lower limb amputated in order to finally take control over her body and her identity.
Viktoria has been made 'Director's Fellow' at MIT Media Lab and recently opened the 'TechStyle' exhibition at the Boston Museum of Fine Arts with her her signature 'spike leg' and the 'Prototype' video featured in the exhibition.
In the week of 23-29 May 2016, Viktoria will work closely with an invited group of artists, creators, makers, designers and inventors to push her vision to whole new levels, as part of #MTFLabs at Music Tech Fest Berlin. Music Tech Fest is a giant creative laboratory and the global festival of music ideas. The tenth edition will be at the legendary Funkhaus in Berlin, and is bringing together artists, scientists, academia and industry to celebrate and invent the future of music.
The results of the week-long #MTFLabs exploring Interactive Performance and 'Music as Extension of the Human Body', will be performed and showcased at #MTFBerlin to coincide with the release of Viktoria's brand new 'Counterflow' EP, mixed at Samplehof Berlin.
'Smokification' by Anouk Wipprecht for Viktoria Modesta
Accelerometer-based leg equipped with an Arduino 101 with embedded Intel Curie which steers intuitively Viktoria's movements while she interfaces with the world around her using a facade of smoke. Anouk is working with Viktoria on using her prosthetic leg as a gestural music controller, in collaboration with Alex Murray-Leslie from Chicks on Speed.
Sonified carbon fibre body suit
Selina Bond's carbon fibre body suit has here been augmented with an array of sensors which, in combination with a Puredata patch, can translate Viktoria's physical movements into musical note data. The tonal qualities of this musical sequence are then further modulated by a BPM biosignal, captured via a pulseoximeter within an earring.
This series is a collaboration between several artists and makers under the creative direction of Viktoria Modesta and Joanna Hir. Carbon fibre body by Selina Bond with shoes by Iris van Herpen X United Nude and creative concept for electronics by Anouk Wipprecht, sonification of the carbon fibre body by Adam John Williams. Prosthetic with the Alternative Limb Project. Photography by Nhu Xuan Hua. Styled by Joanna Hir, assisted by David Asmutis. MUA by Lan Nguyen-Grealis, hair Kim Roy, and set design Helen Sirp & Lisa Jahovic. Produced by Michela Magas and Viktoria Modesta.
Watch Prototype
More to see and do at Music Tech Fest
May 27-30 at Funkhaus Berlin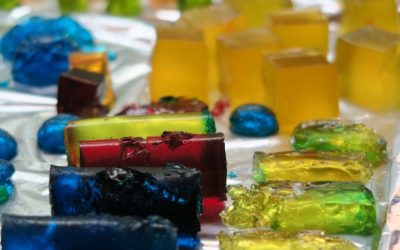 At #MTFBerlin with the help of leading UK educational expert Siobhan Ramsey, Tom Flynn and Daniel Lopez of Sandbox Education, in collaboration with creative education expert Alexandra Antonopoulou, the #MTFSparks built, tested and performed with their new inventions on the main stage at the festival.