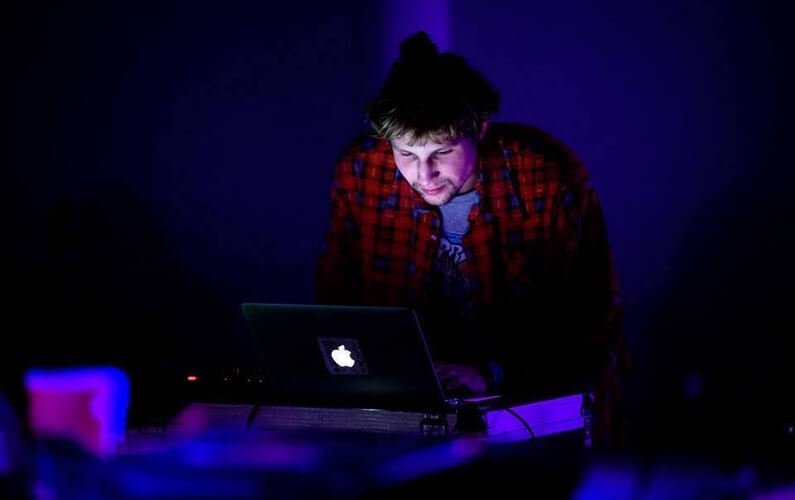 Hello MTF!
My name is Michal Mitro, but pleas call me Mižu. Here are a few words about me…
I am a visual artist, composer and performer working across a wide field of media. Coming from a background in social sciences, I aim to doubt and discuss the status quo of the "naturally given", "normal", and "traditionally right". I focus my attention on the nuances of every day life that are often taken for granted and silently accepted. I also strive to diminish, and ultimately, defy the border between audience and artist/composer to redefine the art making process and to create more inclusive, more accessible and more public art.
My other and rather different field of interest is mediating trans-sensory experiences by transforming information from one sense to another, building light and sound installations catered specifically for a given space. With my colleague sur sur we founded "the new new media project – The Manifesto" which aimes to deliver AV works that truly makes most of connecting the power of sound with that of light and moving image. At the very same time, we strive to reflect on to the medium of our expression which often results in a more critical way of looking at popular media arts that are in the public sphere.
Education and training-wise I hold bachelor of Psychology and Sociology, graudating in 2013. Thereafter, I studied Sculpture and Sonic arts at the University of Tasmania, finished a year course in Gamelan (traditional Indonesian music) at ISI Yogyakarta and underwent a not so amazing year doing not very classical composition at Janacek Academy of Performing Arts in Czech Republic. Currently, I'm rather busy building large scale / audio-visual / interactive installations hoping to eventually finish a masters degree (Intermedia and Digital Arts at University of Technology, Czech Republic) while stubbornly starting another course (artScience) at Royal Collage of Arts in the Hague, Netherlands.
In context of MTF I am taking part in the Creative Labs and the 24-hour Hackathon. I just feel super excited to see how this all evolves as it just seems uber-cool! 🙂 While in Stockholm at MTF, I plan to deepen the light-sound connection. I'm bringing my brand new (its still a prototype) raspberry Pi addressable LEDs controller, 5meters of LEDs and some audio gear to see how this can work together.
Very much looking forward! 🙂