<style><!-- [et_pb_line_break_holder] -->/*-----------------------------------------------*/<!-- [et_pb_line_break_holder] -->/*-------CSS Grid Blog Layout by Divi Soup-------*/<!-- [et_pb_line_break_holder] -->/*-----------------------------------------------*/<!-- [et_pb_line_break_holder] --><!-- [et_pb_line_break_holder] --><!-- [et_pb_line_break_holder] -->/*Blog layout settings, adjust these values only*/<!-- [et_pb_line_break_holder] --><!-- [et_pb_line_break_holder] -->:root {<!-- [et_pb_line_break_holder] --> --ds-white: #ffffff; /*The background colour for the post content and text colour for the second and third post content*/<!-- [et_pb_line_break_holder] --> --ds-grid-2-item: 250px; /*Minimum column width for second grid, decrease this value for more columns*/<!-- [et_pb_line_break_holder] --> --ds-grid-gap: 30px; /*The gap between posts*/<!-- [et_pb_line_break_holder] --> --ds-title-background: rgba(0, 0, 0, .5); /*The background colour of the titles on the second and third posts*/<!-- [et_pb_line_break_holder] -->}<!-- [et_pb_line_break_holder] --><!-- [et_pb_line_break_holder] --><!-- [et_pb_line_break_holder] -->/******************************************************/<!-- [et_pb_line_break_holder] -->/*You should not need to edit anything below this line*/<!-- [et_pb_line_break_holder] -->/******************************************************/<!-- [et_pb_line_break_holder] --><!-- [et_pb_line_break_holder] --><!-- [et_pb_line_break_holder] -->/*Set posts to flex and remove post margin*/<!-- [et_pb_line_break_holder] --><!-- [et_pb_line_break_holder] -->.ds-grid-blog .et_pb_post {<!-- [et_pb_line_break_holder] --> display: -webkit-box;<!-- [et_pb_line_break_holder] --> display: -ms-flexbox;<!-- [et_pb_line_break_holder] --> display: flex;<!-- [et_pb_line_break_holder] --> margin-bottom: 0;<!-- [et_pb_line_break_holder] -->}<!-- [et_pb_line_break_holder] --><!-- [et_pb_line_break_holder] --><!-- [et_pb_line_break_holder] -->/*Set flex direction for second grid*/<!-- [et_pb_line_break_holder] --><!-- [et_pb_line_break_holder] -->.ds-grid-blog-2 .et_pb_post {<!-- [et_pb_line_break_holder] --> -webkit-box-orient: vertical;<!-- [et_pb_line_break_holder] --> -webkit-box-direction: normal;<!-- [et_pb_line_break_holder] --> -ms-flex-direction: column;<!-- [et_pb_line_break_holder] --> flex-direction: column;<!-- [et_pb_line_break_holder] -->}<!-- [et_pb_line_break_holder] --><!-- [et_pb_line_break_holder] --><!-- [et_pb_line_break_holder] -->/*Set post content to flex*/<!-- [et_pb_line_break_holder] --><!-- [et_pb_line_break_holder] -->.ds-grid-blog-content {<!-- [et_pb_line_break_holder] --> display: -webkit-box;<!-- [et_pb_line_break_holder] --> display: -ms-flexbox;<!-- [et_pb_line_break_holder] --> display: flex;<!-- [et_pb_line_break_holder] --> -webkit-box-orient: vertical;<!-- [et_pb_line_break_holder] --> -webkit-box-direction: normal;<!-- [et_pb_line_break_holder] --> -ms-flex-direction: column;<!-- [et_pb_line_break_holder] --> flex-direction: column;<!-- [et_pb_line_break_holder] --> background: var(--ds-white);<!-- [et_pb_line_break_holder] -->}<!-- [et_pb_line_break_holder] --><!-- [et_pb_line_break_holder] --><!-- [et_pb_line_break_holder] -->/*Remove image margin and resize for responsiveness*/<!-- [et_pb_line_break_holder] --><!-- [et_pb_line_break_holder] -->.ds-grid-blog .entry-featured-image-url {<!-- [et_pb_line_break_holder] --> margin-bottom: 0;<!-- [et_pb_line_break_holder] --> height: 100%;<!-- [et_pb_line_break_holder] --> width: auto;<!-- [et_pb_line_break_holder] -->}<!-- [et_pb_line_break_holder] --><!-- [et_pb_line_break_holder] -->.ds-grid-blog .et_pb_post a img {<!-- [et_pb_line_break_holder] --> height: 100%;<!-- [et_pb_line_break_holder] --> -o-object-fit: cover;<!-- [et_pb_line_break_holder] --> object-fit: cover;<!-- [et_pb_line_break_holder] -->}<!-- [et_pb_line_break_holder] --><!-- [et_pb_line_break_holder] --><!-- [et_pb_line_break_holder] -->/*Reset the read more link display*/<!-- [et_pb_line_break_holder] --><!-- [et_pb_line_break_holder] -->.ds-grid-blog a.more-link {<!-- [et_pb_line_break_holder] --> display: initial;<!-- [et_pb_line_break_holder] -->}<!-- [et_pb_line_break_holder] --><!-- [et_pb_line_break_holder] --><!-- [et_pb_line_break_holder] -->/*Add margin to excerpt*/<!-- [et_pb_line_break_holder] --><!-- [et_pb_line_break_holder] -->.ds-grid-blog .post-content p {<!-- [et_pb_line_break_holder] --> margin-bottom: 20px;<!-- [et_pb_line_break_holder] -->}<!-- [et_pb_line_break_holder] --><!-- [et_pb_line_break_holder] --><!-- [et_pb_line_break_holder] -->/*Pagination placement*/<!-- [et_pb_line_break_holder] --><!-- [et_pb_line_break_holder] -->.ds-grid-blog .pagination {<!-- [et_pb_line_break_holder] --> grid-column: 1/-1;<!-- [et_pb_line_break_holder] -->}<!-- [et_pb_line_break_holder] --><!-- [et_pb_line_break_holder] --><!-- [et_pb_line_break_holder] -->/*Set the grid for the first 3 posts*/<!-- [et_pb_line_break_holder] --><!-- [et_pb_line_break_holder] -->.ds-grid-blog-1 .et_pb_ajax_pagination_container {<!-- [et_pb_line_break_holder] --> display: grid;<!-- [et_pb_line_break_holder] --> grid-template-columns: repeat(2, 1fr);<!-- [et_pb_line_break_holder] --> grid-gap: var(--ds-grid-gap);<!-- [et_pb_line_break_holder] -->}<!-- [et_pb_line_break_holder] --><!-- [et_pb_line_break_holder] --><!-- [et_pb_line_break_holder] -->/*Set the grid for the remaining posts*/<!-- [et_pb_line_break_holder] --><!-- [et_pb_line_break_holder] -->.ds-grid-blog-2 .et_pb_ajax_pagination_container {<!-- [et_pb_line_break_holder] --> display: grid;<!-- [et_pb_line_break_holder] --> grid-template-columns: repeat(auto-fill, minmax(var(--ds-grid-2-item), 1fr));<!-- [et_pb_line_break_holder] --> grid-gap: var(--ds-grid-gap);<!-- [et_pb_line_break_holder] -->}<!-- [et_pb_line_break_holder] --><!-- [et_pb_line_break_holder] --><!-- [et_pb_line_break_holder] -->/*First grid first post placement*/<!-- [et_pb_line_break_holder] --><!-- [et_pb_line_break_holder] -->.ds-grid-blog-1 .et_pb_post:first-child {<!-- [et_pb_line_break_holder] --> grid-column: 1 / -1;<!-- [et_pb_line_break_holder] -->}<!-- [et_pb_line_break_holder] --><!-- [et_pb_line_break_holder] --><!-- [et_pb_line_break_holder] -->/*First grid second post placement*/<!-- [et_pb_line_break_holder] --><!-- [et_pb_line_break_holder] -->.ds-grid-blog-1 .et_pb_post:nth-child(2) {<!-- [et_pb_line_break_holder] --> grid-column: 1 / 2;<!-- [et_pb_line_break_holder] -->}<!-- [et_pb_line_break_holder] --><!-- [et_pb_line_break_holder] --><!-- [et_pb_line_break_holder] -->/*First grid third post placement*/<!-- [et_pb_line_break_holder] --><!-- [et_pb_line_break_holder] -->.ds-grid-blog-1 .et_pb_post:nth-child(3) {<!-- [et_pb_line_break_holder] --> grid-column: 2 / 3;<!-- [et_pb_line_break_holder] -->}<!-- [et_pb_line_break_holder] --><!-- [et_pb_line_break_holder] --><!-- [et_pb_line_break_holder] -->/*First post content*/<!-- [et_pb_line_break_holder] --><!-- [et_pb_line_break_holder] -->.ds-grid-blog-1 .et_pb_post:first-child .ds-grid-blog-content {<!-- [et_pb_line_break_holder] --> width: 60%;<!-- [et_pb_line_break_holder] --> padding: 30px;<!-- [et_pb_line_break_holder] --> display: -webkit-box;<!-- [et_pb_line_break_holder] --> display: -ms-flexbox;<!-- [et_pb_line_break_holder] --> -webkit-box-pack: justify;<!-- [et_pb_line_break_holder] --> -ms-flex-pack: justify;<!-- [et_pb_line_break_holder] --> justify-content: space-between;<!-- [et_pb_line_break_holder] -->}<!-- [et_pb_line_break_holder] --><!-- [et_pb_line_break_holder] --><!-- [et_pb_line_break_holder] -->/*Position and colour for second & third posts*/<!-- [et_pb_line_break_holder] --><!-- [et_pb_line_break_holder] -->.ds-grid-blog-1 .et_pb_post:nth-child(n+2) .ds-grid-blog-content {<!-- [et_pb_line_break_holder] --> background: var(--ds-title-background);<!-- [et_pb_line_break_holder] --> position: absolute;<!-- [et_pb_line_break_holder] --> left: 0;<!-- [et_pb_line_break_holder] --> right: 0;<!-- [et_pb_line_break_holder] --> bottom: 0;<!-- [et_pb_line_break_holder] --> -webkit-box-align: center;<!-- [et_pb_line_break_holder] --> -ms-flex-align: center;<!-- [et_pb_line_break_holder] --> align-items: center;<!-- [et_pb_line_break_holder] --> padding: 10px;<!-- [et_pb_line_break_holder] --> text-align: center;<!-- [et_pb_line_break_holder] -->}<!-- [et_pb_line_break_holder] --><!-- [et_pb_line_break_holder] --><!-- [et_pb_line_break_holder] -->/*Text colour for second & third posts*/<!-- [et_pb_line_break_holder] --><!-- [et_pb_line_break_holder] -->.ds-grid-blog-1 .et_pb_post:nth-child(n+2) .entry-title,<!-- [et_pb_line_break_holder] -->.ds-grid-blog-1 .et_pb_post:nth-child(n+2) .post-meta,<!-- [et_pb_line_break_holder] -->.ds-grid-blog-1 .et_pb_post:nth-child(n+2) .post-meta a {<!-- [et_pb_line_break_holder] --> color: var(--ds-white) !important;<!-- [et_pb_line_break_holder] -->}<!-- [et_pb_line_break_holder] --><!-- [et_pb_line_break_holder] --><!-- [et_pb_line_break_holder] -->/*Font size for second & third posts*/<!-- [et_pb_line_break_holder] --><!-- [et_pb_line_break_holder] -->.ds-grid-blog-1 .et_pb_post:nth-child(n+2) .entry-title {<!-- [et_pb_line_break_holder] --> font-size: 150% !important;<!-- [et_pb_line_break_holder] -->}<!-- [et_pb_line_break_holder] --><!-- [et_pb_line_break_holder] --><!-- [et_pb_line_break_holder] -->/*Hide excerpt for second & third posts and second grid posts*/<!-- [et_pb_line_break_holder] --><!-- [et_pb_line_break_holder] -->.ds-grid-blog-1 .et_pb_post:nth-child(n+2) .post-content,<!-- [et_pb_line_break_holder] -->.ds-grid-blog-2 .et_pb_post .post-content p {<!-- [et_pb_line_break_holder] --> display: none;<!-- [et_pb_line_break_holder] -->}<!-- [et_pb_line_break_holder] --><!-- [et_pb_line_break_holder] --><!-- [et_pb_line_break_holder] -->/*Remaining posts display*/<!-- [et_pb_line_break_holder] --><!-- [et_pb_line_break_holder] -->.ds-grid-blog-2 .et_pb_post .ds-grid-blog-content {<!-- [et_pb_line_break_holder] --> padding: 30px;<!-- [et_pb_line_break_holder] --> display: -webkit-box;<!-- [et_pb_line_break_holder] --> display: -ms-flexbox;<!-- [et_pb_line_break_holder] --> display: flex;<!-- [et_pb_line_break_holder] --> -webkit-box-pack: justify;<!-- [et_pb_line_break_holder] --> -ms-flex-pack: justify;<!-- [et_pb_line_break_holder] --> justify-content: space-between;<!-- [et_pb_line_break_holder] --> height: 100%;<!-- [et_pb_line_break_holder] -->}<!-- [et_pb_line_break_holder] --><!-- [et_pb_line_break_holder] --><!-- [et_pb_line_break_holder] -->/*Set margin for remaining posts*/<!-- [et_pb_line_break_holder] --><!-- [et_pb_line_break_holder] -->.ds-grid-blog-2 .et_pb_post .entry-title {<!-- [et_pb_line_break_holder] --> margin-bottom: 30px;<!-- [et_pb_line_break_holder] -->}<!-- [et_pb_line_break_holder] --><!-- [et_pb_line_break_holder] --><!-- [et_pb_line_break_holder] -->/*Keep read more link at bottom*/<!-- [et_pb_line_break_holder] --><!-- [et_pb_line_break_holder] -->.ds-grid-blog-2 .et_pb_post .post-content {<!-- [et_pb_line_break_holder] --> margin-top: auto;<!-- [et_pb_line_break_holder] -->}<!-- [et_pb_line_break_holder] --><!-- [et_pb_line_break_holder] --><!-- [et_pb_line_break_holder] -->/*Adjust for mobile*/<!-- [et_pb_line_break_holder] --><!-- [et_pb_line_break_holder] -->@media all and (max-width:980px) {<!-- [et_pb_line_break_holder] --> .ds-grid-blog-1 .et_pb_post:first-child {<!-- [et_pb_line_break_holder] --> -webkit-box-orient: vertical;<!-- [et_pb_line_break_holder] --> -webkit-box-direction: normal;<!-- [et_pb_line_break_holder] --> -ms-flex-direction: column;<!-- [et_pb_line_break_holder] --> flex-direction: column;<!-- [et_pb_line_break_holder] --> }<!-- [et_pb_line_break_holder] --> .ds-grid-blog-1 .et_pb_post:first-child .ds-grid-blog-content {<!-- [et_pb_line_break_holder] --> width: 100%;<!-- [et_pb_line_break_holder] --> }<!-- [et_pb_line_break_holder] --> .ds-grid-blog-1 .et_pb_post {<!-- [et_pb_line_break_holder] --> grid-column: 1 / -1 !important;<!-- [et_pb_line_break_holder] --> }<!-- [et_pb_line_break_holder] -->}<!-- [et_pb_line_break_holder] --><!-- [et_pb_line_break_holder] --><!-- [et_pb_line_break_holder] -->/*-----------------------------------------------*/<!-- [et_pb_line_break_holder] -->/*-----End CSS Grid Blog Layout by Divi Soup-----*/<!-- [et_pb_line_break_holder] -->/*-----------------------------------------------*/<!-- [et_pb_line_break_holder] --></style>
<script><!-- [et_pb_line_break_holder] -->//CSS Grid Blog Layout by Divi Soup<!-- [et_pb_line_break_holder] -->(function ($) {<!-- [et_pb_line_break_holder] --> $(document).ready(function () {<!-- [et_pb_line_break_holder] --> //Wrap first grid elements in containers<!-- [et_pb_line_break_holder] --> $(".ds-grid-blog-1 .et_pb_post").each(function () {<!-- [et_pb_line_break_holder] --> $(this).find(".entry-featured-image-url").wrapAll('<div class="ds-grid-blog-image"></div>');<!-- [et_pb_line_break_holder] --> $(this).find(".entry-title, .post-meta, .post-content").wrapAll('<div class="ds-grid-blog-content"></div>');<!-- [et_pb_line_break_holder] --> });<!-- [et_pb_line_break_holder] --> });<!-- [et_pb_line_break_holder] -->})(jQuery);<!-- [et_pb_line_break_holder] -->(function ($) {<!-- [et_pb_line_break_holder] --> $(document).ready(function () {<!-- [et_pb_line_break_holder] --> $(document).bind('ready ajaxComplete', function () {<!-- [et_pb_line_break_holder] --> //Wrap second grid elements in containers<!-- [et_pb_line_break_holder] --> $(".ds-grid-blog-2 .et_pb_post").each(function () {<!-- [et_pb_line_break_holder] --> $(this).find(".entry-featured-image-url").wrapAll('<div class="ds-grid-blog-image"></div>');<!-- [et_pb_line_break_holder] --> $(this).find(".entry-title, .post-meta, .post-content").wrapAll('<div class="ds-grid-blog-content"></div>');<!-- [et_pb_line_break_holder] --> });<!-- [et_pb_line_break_holder] --> //Move elements around<!-- [et_pb_line_break_holder] --> $(".et_pb_post").each(function () {<!-- [et_pb_line_break_holder] --> $(".post-meta", this).insertBefore($(".entry-title", this));<!-- [et_pb_line_break_holder] --> });<!-- [et_pb_line_break_holder] --> //Add button class to read more link<!-- [et_pb_line_break_holder] --> $(".et_pb_post a.more-link").addClass("et_pb_button");<!-- [et_pb_line_break_holder] --> //Replace pipes and remove commas from the meta<!-- [et_pb_line_break_holder] --> $(".et_pb_post").html(function () {<!-- [et_pb_line_break_holder] --> return $(this).html().replace(/\|/g, '/').replace(/,/g, '');<!-- [et_pb_line_break_holder] --> });<!-- [et_pb_line_break_holder] --> });<!-- [et_pb_line_break_holder] --> });<!-- [et_pb_line_break_holder] -->})(jQuery);<!-- [et_pb_line_break_holder] -->//End CSS Grid Blog Layout by Divi Soup<!-- [et_pb_line_break_holder] --></script>
Four MTFers won ISAbells – the International Sound Awards and more were highly commended runners up in the prestigious event in Hamburg.
read more
Crazy. I didn't realise that it would be such a wide variety of things… - Glyn Hanmer
Best thing about MTF Stockholm? People! The generosity, the passion, the openness, the different types of intelligence. Did not get to spend near enough time with everyone from previous MTF's, but so lovely to briefly reconnect. - Anne Dvinge
Who needs sleep when there's hacking to do and so many amazing people to meet and an all around inspiring atmosphere? - Sean Manton
Everything about MTF Stockholm was amazing. The organization, the team, guests, students and staff where are impecable, nice and hard working. I am very happy to have come from Mexico to join people whom I would've never met back home. I wish more events like these could happen all around the world! - Amor Amezcua
It was great! I work for a major tech company in the Nordics and I found a couple of companies that our innovation team is now working on a collaboration with. I also brought my 15yo son who's into tech and he loved seeing the developers pitch. - Stephanie Huf
I really liked the vibe of constant activity, and the anything goes ethos. Build (or bring) something and put it out there! - Petter Karlström
All the performances, innovations and inventions amazed every part of me but nothing like meeting so many different people from so many different backgrounds and talents and skills sharing a single passion. The sense of belonging and community and the feeling of being able to learn something new from every person present has no price. - Lucas Castillo Villamil
Gender balance was outstanding, congratulations for that! - Mauricio Valdés
An absolutely fabulous event - well conceived, fluid, entertaining, surprising and at times profound. The non-typical format really works, with demos and chats rather than talks and keynotes. - Ravi Kapur
Particularly inspiring: being a part of Imogen Heap's experiment with making the crowd co-producer of a recorded song from her intimate gig in the reactor by using smart contracts! - Stine
Loved the diversity of minds, it felt inclusive and gave everyone a voice. Thank you for the event, I feel it has helped me grow as an artist. - Joseph Wilk
MTF experience enriched me with a magical resonance between personal & professional in sharing common passion with truly amazing people from around the globe. Really hope to be part of it again! - Re Cvetana
A fantastic experience of how highly relevant and interested people can have meaningful exchanges without all sorts of complicated formats. - Sebastiaan Meijer
Just great. i really appreciated that MTF put together this whole event. I am very happy to hear that MTF might be doing the hackathon annually at KTH which would be awesome. In that case I am going to apply everytime! - Hjalmar Jakobsson
The best thing about the Music Tech Fest were the people involved, it was a great opportunity to connect and hear stories with extremely skilled people from all over the world… - Nicolo Merendino
I have no idea how I came across this event - I knew nobody else who was going, and I discovered it only a month before it happened. Honestly, that front page full of female musicians, innovators and curators stopped me in my tracks. I'm not sure I even scrolled the whole way down the page before buying - best impulse purchase I have ever made. - Geraint
I met students, older folks who were pioneers and leaders in the electronic music field, people building interesting things. Everyone was on the same level - no green room evident, the speakers and performers walked among us. When it comes down to it, the best thing was there was a lot of support, encouragement , sense of "family" in the best way. - John-Henry Barac
A beautiful gathering of likeminded people with sometimes different but complementary interests. A festival that requires energy to enjoy it "all" but rewards with many refreshing new points of view regarding performance, music, installations, technology, trends, etc.. - Servando Barreiro
It was really fantastic, interesting, loads going on and wonderful people. - Francesca Ter-Berg
I thought the Ericsson, Muarts and the music from brain activity was particularly inspiring. It was lovely spending time with Charlie and his wife and their 8.1 sound system in the basement. - Paul Weston
People are the soul of MTF. People are the engine. The location was incredible for sure, but the people are the essential component of this Festival. I'm in love with their thoughts, their openness of mind, their projects and not less important, the fact that they're after all, humans. - Andrea Cerrato
It has been touching, overwhelming, sleep deprivating, consuming, rebooting, as expected. - Stefano Piermatteo
The quantity/quality of people involved is amazing. Literally the first time I've been in such a talented/brilliant/inspiring environment with so many people! - Michelangelo Guarise
The generosity, the passion, the openness, the different types of intelligence. Did not get to spend near enough time with everyone from previous MTF's, but so lovely to briefly reconnect. - Anne Dvinge
It helps of course that you have an informed, passionate and generally like minded audience, and Graham Massey's comment about there being a 'collective mind' at the event felt very true. In general, I felt very 'at home', and my kids throughly enjoyed themselves. Thank you and well done. - Ravi Kapur
Really inspiring, with an interesting mix of people! - Hedvig Kjellström
Amazing. I loved every minute of it. - Alexander Phleps
I haven't had access to that kind of serendipitous collaboration since I was just starting out; but now that I am old and cynical and more skilled it's so much better. MTFLabs summoned the fresh, idealistic spontaneity that many of us have had no time for as long as we can remember and fused it the cunning artfulness of seasoned professionals. that was some next level pro-grade collision of ideas. - Dan MacKinlay
Stunning, really interesting meetings with people from so many areas - Tobias Edman
A hugely diverse crowd of talent that left me completely humbled, and simultaneously motivated me to explore my craft further… like nothing has in a long time. Thanks for that. - Ray Arkaei
The hardware. Omg. The hardware. Makes me want to play some more with things I have absolutely no idea how to work with. - Charlotte Slot
In MTF Stockholm everyone is welcome. It doesn't feel like you're a guest you feel like a big family. Everyone is supporting one another and glad to see you perform, speak or meet. What I thought was most interesting and inspiring was definitely how everyone comes together. - Amor Amezcua
It was great! Met lots of amazing people and I'm thrilled I decided to attend. - Nina Butler
Being in a creative environment with really talented and knowledgeable people. Meeting and working with people who understands that building a thing that goes BEEP-WOWOW and then maybe even BOOP-WUWU, is something that is important. - Johnnie Hård
The different formats for discussions, the range of activities taking place over the length of the conference, the incredible people who were part of the various activities and events. - Jeremy Morris
The lovely and inspiring people. The challenge and pressure to finish in 24 hours. - Ruben Svensson
One the best experiences this year. I've been using tech (mostly programming) and playing music all my life but apart from recording music on my computer I've never really connected those interests. Through this festival I've got so much inspiration to finally connect them! It was so inspiring and so much fun to just walk around talking and sharing ideas with different people. - Kristofer Fagerström
What a beautiful city! Plus I did not appreciate how much of a music tech hub Stockholm is. Makes sense to make MTF the capital of this scene! My overall experience: friendly and welcoming. This was important since it was my first MTF. - Ben Koppelman
Being in a room with people from different countries, with totally different cultures and backgrounds and soooo many ideas bouncing between the four walls that had to be discussed and eventually included/excluded to the final output. - Panagiotis Apostolakis
The enthusiasm and inclusion by everyone for everyone. There was no hierarchy or arrogance. I'm sure some people were in awe of others for their talents but I felt anyone could contribute and be listened to. - John Bradley
Particular inspiring was the amount of hackers participating again and all the different technologies shown. - Katariina Kari
Thanks for a fantastic event. More content than I could possibly get to. Loved it, learned a lot and made some great connections! - Stephanie Huf
I found the focus on accessibility that MTF had quite inspiring. So many bright minds working for such important matters is what the world of music and the world of people needs. - Lucas Castillo Villamil
The element of blockchain, copyright and music distribution formats that were addressed during symposium and interviews, was completely new for me. - Mauricio Valdés
An environment in which artistic and professional competence blend perfectly to create an experience that knows how to inspire at levels that I hardly had the opportunity to see elsewhere. - Andrea Cerrato
Everyone was friendly and happy to explain the part of the tech world they were involved in. I particularly enjoyed having the chance to try different equipment and for people to explain them to me. But mainly to 'have a go'. - John Bradley
The amount of talent and interesting things taking place at the festival was really inspiring and has given me a lot of new ideas to think of for future research projects. - Jeremy Morris
You will find us at the legendary ZKM in Karlsruhe doing a 24-hour intervention from Saturday, 27th of October, taking forward a bunch of awesome projects and collaborations from #MTF Stockholm, through performance, hacking and experimentation.
read more
Airan Berg creates participatory music theatre projects and serves as the artistic director for Valletta2018 and Festival der Regionen.
read more
One of the most important things at Music Tech Fest is that new projects and ideas that start at the festival can be supported and encouraged to go on and have a life beyond it. For that reason, we've partnered with KTH Innovation as part of the 24-hour Hack Camp at MTF Stockholm.
read more
It's hard to imagine someone who absolutely embodies the synthesis of cutting edge scientific research and human creative expression that we champion at Music Tech Fest more than the inspirational Professor Danica Kragic.
read more
On Thursday 6th and Friday 7th of September, Music Tech Fest hosts the #MTFResearch Symposium in the stunning library at the heart of KTH Royal Institute of Technology. The brilliant Nancy Baym will be leading the symposium, giving the opening keynote and hosting the...
read more
Music technology: it's not rocket science. So we decided to fix that. We've invited an actual rocket scientist to lead the 24-hour Creative Labs at MTF Stockholm: Music producer, engineer, instrument inventor, and former NASA researcher Professor Kelly Snook.
read more
We're thrilled to announce that the incredible Dutch Fashion Tech designer Anouk Wipprecht will join MTF Stockholm in September. Music Tech Fest is championing women in tech and features inspiring 'arts-meet-science' women at the forefront of all the different areas of the festival.
read more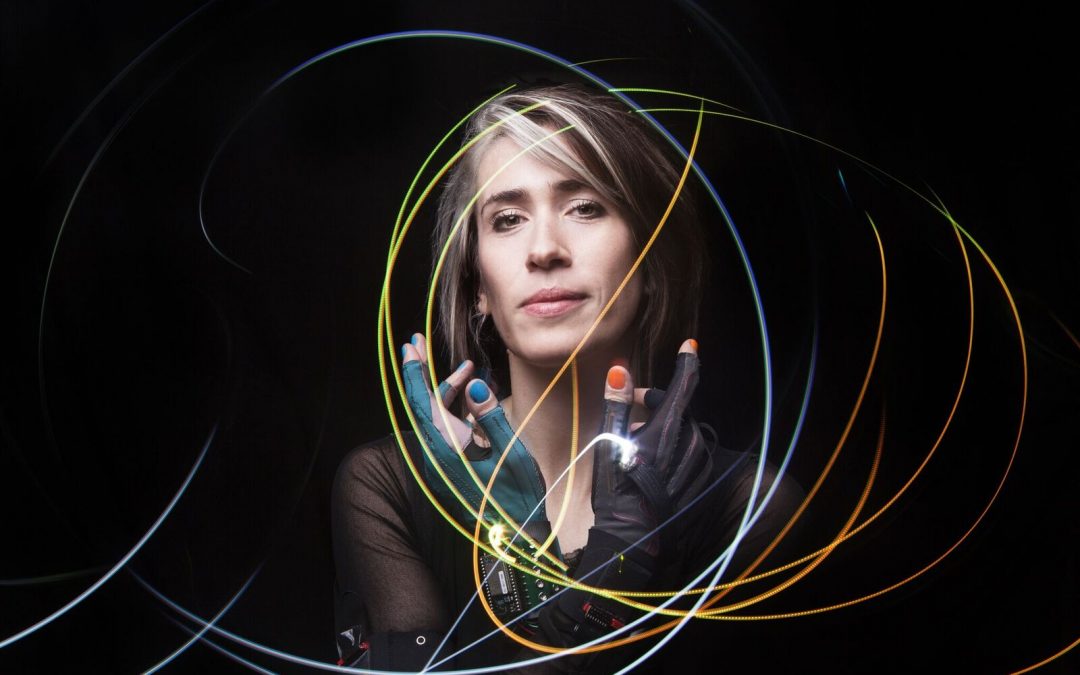 Grammy and Ivor Novello winning British artist and polymath Imogen Heap is the next in a series of inspirational 'arts-meets-science' Wonder Women who will be leading areas of the flagship Music Tech Fest (MTF) innovation festival in Stockholm…
read more
Music Tech Fest partner with KTH Royal Institute of Technology for #MTFStockholm 7-9 September 2018
read more
Every time we assemble a diverse group of brilliant and talented people from the wider MTF community, something happens beyond even our high expectations. A jaw-dropping moment. We keep seeing it: not just a clever invention or a brilliant performance – those are a given – but a genuine breakthrough.
read more
At our recent #MTFLabs: Industry Commons pilot at Slush in Helsinki, blockchain tech, intellectual property and the rights of creative innovators took centre stage – literally.
read more
We spent an amazing #MTFLabs week at the end of November with some of the most brilliant people you could imagine – most of whom had never met or worked together before, and yet managed to put together an incredible orchestrated performance in just a few days…
read more
Music Tech Fest today announced the launch of a new innovation management methodology – The Industry Commons.
read more
New technologies are often blamed for an array of societal problems including precarious employment, economic exclusion and social division. Innovations don't just affect us as consumers, but as citizens. The reason for this is clear, but all too often overlooked: all technologies are human technologies.
read more
For the past five years, the MTF community has been exploring the intersection between music and innovation. It's key to what we do at Music Tech Fest, and the innovation that comes out of this space often goes far beyond musical performance.
read more