At our recent
#MTFLabs: Industry Commons
pilot at Slush in Helsinki, blockchain tech, intellectual property and the rights of creative innovators took centre stage - literally.
The Industry Commons is a sustainable Open Innovation methodology, toolkit and ecosystem. It changes the way innovation is managed in order to enable new products and services, by combining and leveraging existing industry tech and state of the art research, encouraging collaborative invention, fostering robust creative startups, and creating new business models.
We put music and creativity at the heart of everything we do, and so in this context, the idea of not just 'who owns what' but also 'who contributed what' is vitally important.
The Industry Commons creates these new hybrid technologies and creative collaborations on top existing data, tools and IP from industry and research - and so we have created an IP stack: layers of intellectual property that are clearly defined and tracked so that the ideas of innovators and creative artists are recognised and protected, while ensuring the ownership and attribution of source technologies contributed by industry and academic partners.
What this enables is a freedom to combine and invent in ways that would otherwise be impossible, and create intractable legal complexities in the context of power relationships that are, at best, asymmetrical.
Assembling the right partners
In Helsinki, we worked closely with music performing rights organisation
Teosto
, who are exploring new avenues and methods to represent composers in the 21st century. Their insights into the needs and concerns of artists and creatives, and the possibilities that blockchain and other distributed ledger technologies offer were an important component of the 5-day labs in Helsinki.
"Blockchains have elements that can instantaneously improve current music rights management processes, but at the same time it would be naive not to see the revolutionary effects in the horizon. What makes Industry Commons initiative with its cross-industry philosophy special, is that it connects our business from the microcosmos it is often thought inside the industry to the real world, making the potential of distributed ledgers far more real and current and avoiding the inexorable cul-de-sac where industry discussion often ends up. For me, #MTFlabs in Helsinki was innovation in its purest form." - Turo Pekari, Senior Advisor, Innovation and Discovery at Teosto
We were also joined by our partners from Ocean Protocol Foundation - a decentralised data exchange designed to gather together diverse kinds of data from across a wide range of industries and make that data available according to conditions set by its owners (either for free, or at a price) so that this data may be used to empower Artificial Intelligence applications. Their philosophy is that the more data is shared between sectors and amongst competitors and collaborators alike, the more opportunities will exist for data-driven applications and AI advancement.
Ocean Protocol is built on
BigchainDB
technology, and we were joined by Don and Gautam from the organisation.
As Gautam put it
- magic is made when artists and geeks come together with a purpose:
"For me, the best part was collaborating with people coming from completely different backgrounds. One of my favourite moments was when I explained blockchains to music composers and producers as a tool to get proper attribution for their creations. And when, in response, they nodded with hope and confidence, it just made my day."
Gautam and Don very quickly created apps that allowed for the musical creations to be registered and recorded in the blockchain so that others could build on it with full attribution in future.
To enable the smart contracts that would allow for the inventions and creative expressions developed in the lab to go on to have a life beyond it, we worked with COALA: a coalition of lawyers, computer scientists and entrepreneurs who are working together to address the challenges and opportunities of emerging blockchain technologies. We supplied them with a full explanation and description of every single contribution from the composition of the music to the development of the software.
We joined forces with the
IOTA Foundation
to ensure that the technologies, processes and IoT devices that are developed within the creative testbed of the Industry Commons have both the technological framework and the economic potential to establish entirely new markets and create new business models built on nanotransactions between devices, internet connected machines, people and organisations in the physical internet.
"The IOTA Foundation is very exicted to be part of the Industry Commons initiative. We firmly adhere to the philosophy of interoperability and sharing knowledge and skills across sectors, both in the non-profit and for-profit realms. It is easy for us to commit to the ethos and goals of the industry commons given how similar they are to our own, and we expect the synergy to give rise to a lot of exciting projects and Collaborations" - David Sønstebø, Founder of IOTA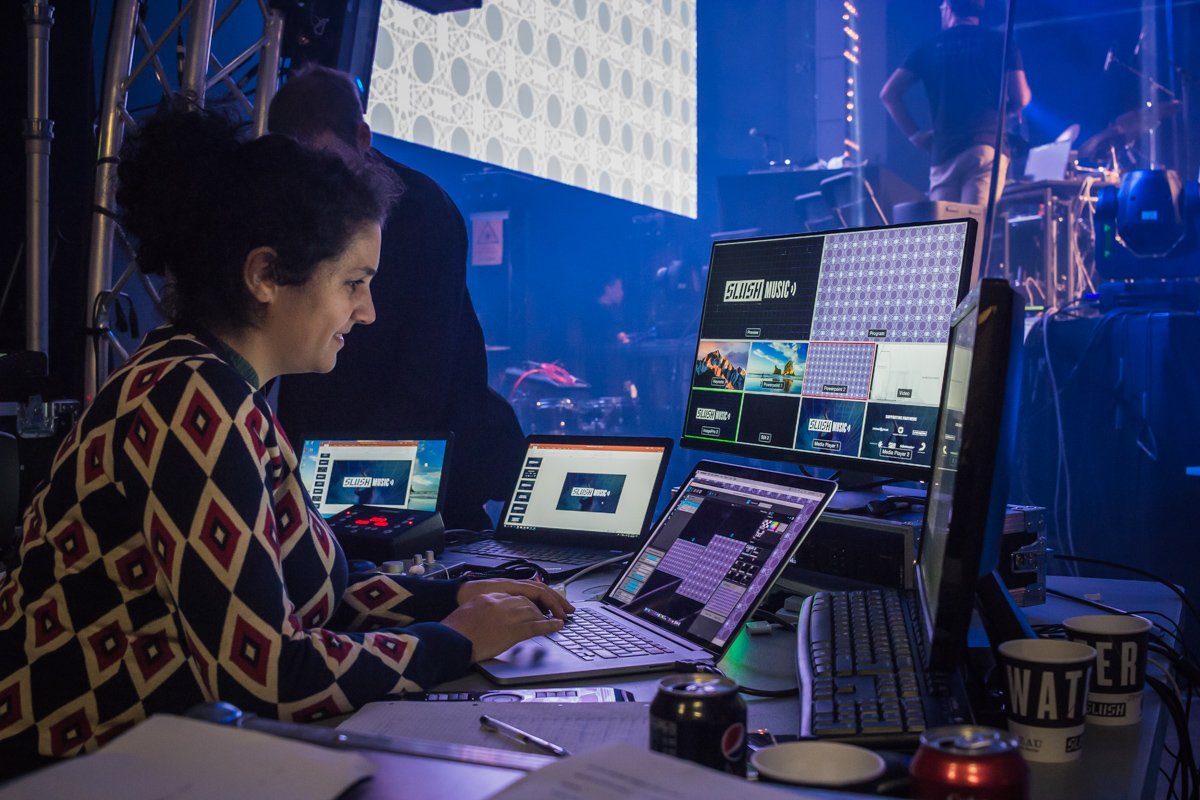 The purpose of the Industry Commons is to facilitate fast and radical innovation across and between all industry sectors - from agriculture and forestry to neuroscience and cryptography - but music and creativity is always at the centre.
Our partners at MOD Devices recognise the potential for blockchain and distributed ledger technology as well as the smart contracts that can be built upon them, and they joined the labs to explore embedding these technologies within their programmable pedals in a way that would bring the registration and enactment of creative intellectual property right on the stage at the point of performance.
Their aim was to track not only the composers' contribution, but also that of the hardware and software developer, the patch builder and creators of the sounds that make the music possible - right through to the performing musician whose unique interpretation in the moment could also be identified and recognised as a creative contribution.
"The music business has historically been unfair in the remuneration of those involved in the entire production process. We understand that initiatives like the Industry Commons and related technologies will enable a platform like MOD to create a more democratic and economically healthy creative environment where the entire spectrum of contributors - from coders to players - is properly rewarded. With the MTFLabs in Helsinki Music Tech Fest has once again graced us with an opportunity to connect our technology with an ecosystem of creators working with real life applications in a very innovative - and beautiful - way. These experiences are of amazing value to understand the necessary paths we need to take in order to accomplish our vision." - Gianfranco Ceccolini, CEO and Founder, MOD Devices
The Industry Commons brings together and builds on these technologies, and the #MTFLabs: Industry Commons pilot in Helsinki formed a real-world test for that methodology and toolkit. It embedded all of these within an extraordinary musical showcase that wove together accessible music technology, neurofeedback, cyborg performance, data systems analysis, pixelmapping and data visualisations, heart rate sensors and traditional Finnish folk music - all while establishing new layers of intellectual property and brand new business models that break down industry silos.